Stimulation of monocyte-derived DCs
Laboratory protocol
Different strains of Saccharomyces cerevisiae were cultured and collected in different conditions:
* different growth phase (exponential and stationary phase)
* different growth media (standard and promoting pseudohyphal growth)
* different cell form (spheroplast, spore and whole cell)

Monocyte-derived DCs were added at a final concentration of 5x105 cells/ml into 96-well plates. Serial diluition of yeast cells and preparations were added to the MoDCs. Cytokine accumulation was evaluated in the supernatants at 24h by ELISA, according to a standard protocol and it was measured at 450nm. The ELISA kit for IL-12 and IL-10 was from Biosource.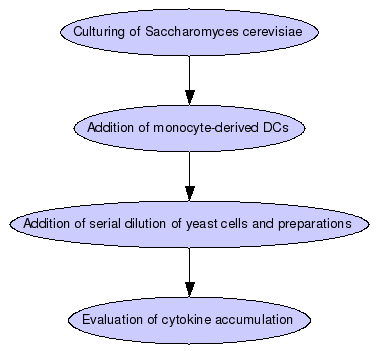 created over 14 years ago (2 March 2009) last modified over 11 years ago (28 September 2011) &nbsp[ RDF

] &nbsp[ RelFinder

]