cGMP DC generation
Standard operating procedure
We have a clinical protocol for immunotherapy of melanoma patients in preparation, however many details are not yet finalized.

Everything is carried out under GMP conditions according to SOPs.

In brief, patients with stage III or stage IV melanoma will undergo surgical resection of a melanotic lesion and leukapheresis will be performed on the following day. DCs will be generated from monocytes after elutriation of the leukapheresis product. On day 5 of culture immature DC will be pulsed with irradiated tumor cells (apoptotic bodies) prepared from the removed lesion and matured for 48 hours in presence of TNF-alpha. Monocyte and DC viability as well as functionality will be continuously monitored. Such prepared DC will be used as DC vaccine, but also to expand T cells (isolated during the elutriation) for subsequent adoptive transfer. Before injection all cell products will be thoroughly tested to exclude contamination and presence of viable tumor cells. A portion of pulsed and unpulsed mature dendritic cells will be frozen and used to monitor immunological responses elicited by the DC vaccine and transferred T cells during the clinical trial. Treatment induced T cell responses will be evaluated by flow cytometry based methods (T cell phenotype, proliferation, perforin degranulation) and cytokine detection (Elispot, Elisa). The patients will be monitored for safety and toxicity of the treatment and for clinical response to immunotherapy.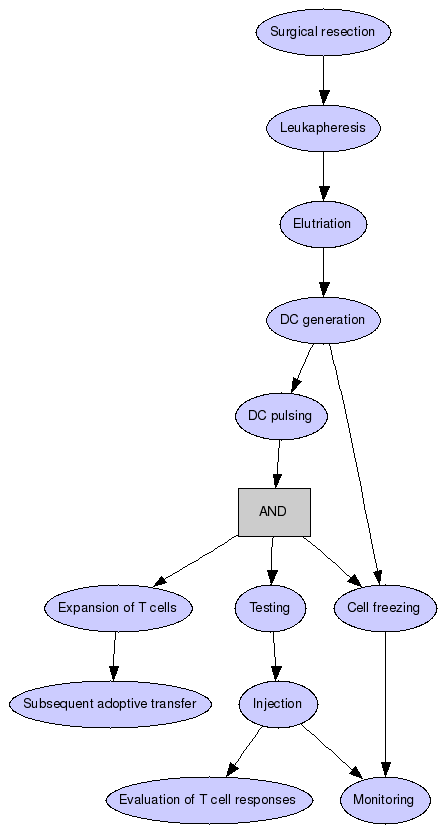 created over 14 years ago (2 March 2009) last modified over 11 years ago (28 September 2011) &nbsp[ RDF

] &nbsp[ RelFinder

]