Phase I clinical trial protocol in patients with advanced (stage III or IV) melanoma
Clinical protocol
We are preparing a protocol for a phase I clinical trial in patients with advanced (stage III or IV) melanoma. Patients will receive a DC vaccination regimen followed by 3 adoptive transfers of autologous in vitro expanded T cells. This novel approach combines in vivo priming by the DC vaccine with passive immunotherapy by lymphocyte infusion.

Patients will undergo surgical removal of a metastatic lesion and leukapheresis at the beginning of the trial to provide sources for tumor antigens as well as monocytes and T cells, which will be isolated from the leukapheresis product by elutriation. Patients will undergo lymphodepletion prior to vaccination and prior to adoptive transfer of autologous T cells. The DC vaccine will consist of monocyte derived DC loaded with tumor lysate generated from the excised lesion. The T cell transfer will consist of T cells expanded by co-culture with tumor lysate loaded DC.

The primary objective of this trial is to determine toxicity and feasibility of treatment of patients with advanced melanoma with DC vaccine and adoptive transfer. The secondary objective is to generate large numbers of tumor reactive T cells, characterize these T cells and evaluate immunological and clinical responses in treated patients.

Recently we have optimized our T cell expansion protocol by testing different cytokines and evaluating whether T cell expansion can be improved by using antigen loaded DC as stimulators at all times. We find that mixed PBMCs have superior stimulatory capacity and that IL-2 had the best cost-benefit ratio and will therefore not modify the original protocol. The study protocol has been reviewed by the local ethical committee and is now ready to be submitted to Läkemedelsverket, the Swedish regulatory authority for clinical trials.

Upon approval by swedish authorities we plan to include, treat and evaluate 10 patients during a period of one to two years.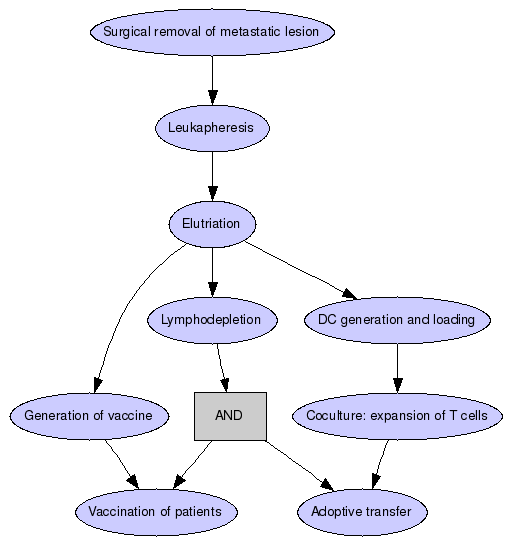 created over 14 years ago (2 March 2009) last modified over 11 years ago (28 September 2011) &nbsp[ RDF

] &nbsp[ RelFinder

]