Active immunotherapy in advanced melanoma patients
Clinical protocol
We have a current clinical protocol for active immunotherapy in advanced melanoma patients (GMP SOPs covering the protocols are also available).
The vaccine is composed by autologous DCs pulsed with allogenic melanoma peptides (SK-Mel 24, HLA-A1 and HLA-A2 positive) plus KLH as immunological tracer and it is produced under GMP condition at MolMed S.p.A. (DIBIT, San Raffaele, Milan, Italy).
HLA-A1 and/or HLA-A2 positive patients with stage III/IV melanoma undergo leukapheresis. DCs are generated from adherent peripheral blood monocytes, at day 6 DC are pulsed with the peptides and KLH in the presence of TNF-??overnight, next day the peptides and KLH are replaced and incubated for further 4h and then used for quality controls and intradermal administration. Patients receive V administrations with eventual additional ones depending on clinical outcome. The patients are monitored for safety and toxicity of the treatment and for clinical response. T cell stimulatory activity of DC is monitored by induction of KLH specific T cells, tumor specific responses are evaluated by induction of SK-Mel 24 peptides specific T cells.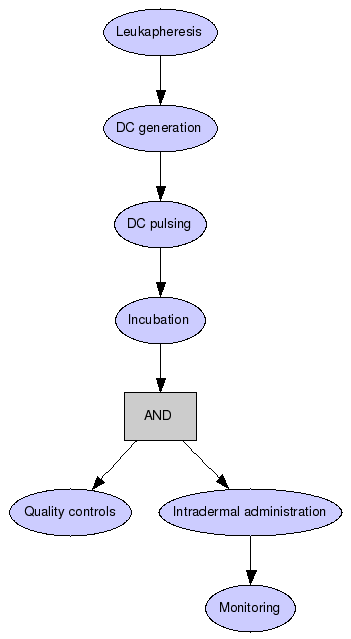 created over 14 years ago (2 March 2009) last modified over 11 years ago (28 September 2011) &nbsp[ RDF

] &nbsp[ RelFinder

]